QFC Services, LLC, one of our long-time customers has upgraded its website, https://www.qfcservices.com/. The new website features a mobile-first design and an optimized platform, including a CDN and automatically optimized images.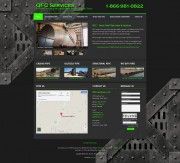 When we built their original website they told us that they were avid gamers and wanted the website to have a dramatic look. Their trademark green color is eye-catching as can be. The website was one of our first responsive websites and was state-of-the-art at the time. The website held its own for almost a decade, with only minor revisions. Nothing lasts forever, and QFC Services finally decided that it was time to give their website a new look for a new decade.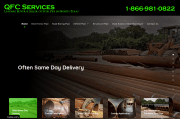 The new website picked up where the old website left off. Navigation is optimized for mobile devices and the breathtaking design includes wall-to-wall background images and element animations that demand to be noticed.
SEO is important, so there are a large number of SEO friendly focus pages that are targeted at individual cities in the QFC Services service area. Here's an example of how effective the focus pages are: https://www.google.com/search?q=cedar+hill+carbon+steel+pipe
On our SERP page QFC Services is not only on the first page of Google, but they are also the first result. Google optimizes results per user, so your results may vary.
The website is running on our VPS hosting with SSD drives, multiple cores, and OPcache. The website has its own caching and optimization systems that make it really scoot! If you call or go by QFC Services, please tell them that Pro Epic sent you.